Your Exclusive CHIC Advanced Coating Installer in Manitoba, Saskatchewan, Alberta, and the BC Interior.
CHIC - "The Leader in Weatherproof Exterior Wall Coatings"
Since 1984.
CHIC is NOT A PAINT! 
If you have been searching for the best stucco paint in Canada for cracked and dirty stucco and come up empty handed… it's because there is no stucco paint that comes close to the durability and weatherproofing properties of the CHIC Advanced Coating System.  
Since 1984, CHIC  has been protecting Canadian exteriors with our proprietary liquid applied, breathable, weatherproof coating system.  
The CHIC SYSTEM is engineered to be the best defense against the elements for stucco walls. CHIC is low maintenance and exceptionally long-lasting.  CHIC is also backed by the best in the industry LIFETIME WARRANTY!  The CHIC warranty can even be TRANSFERRED to new owners if you sell your home, CHIC is that good!
CHIC is the ideal finish for all types of stucco, masonry, and cement-based siding.
When you book a CHIC application with us, you have piece of mind knowing that your job is done properly and your investment is protected with the best stucco coating in Canada.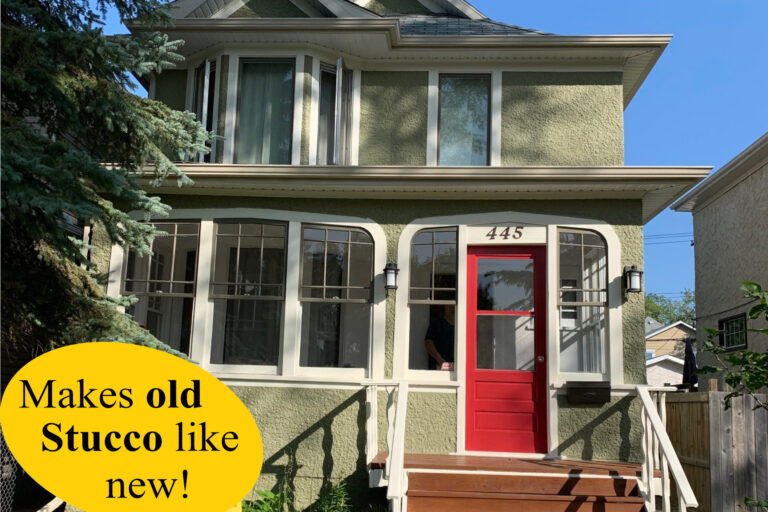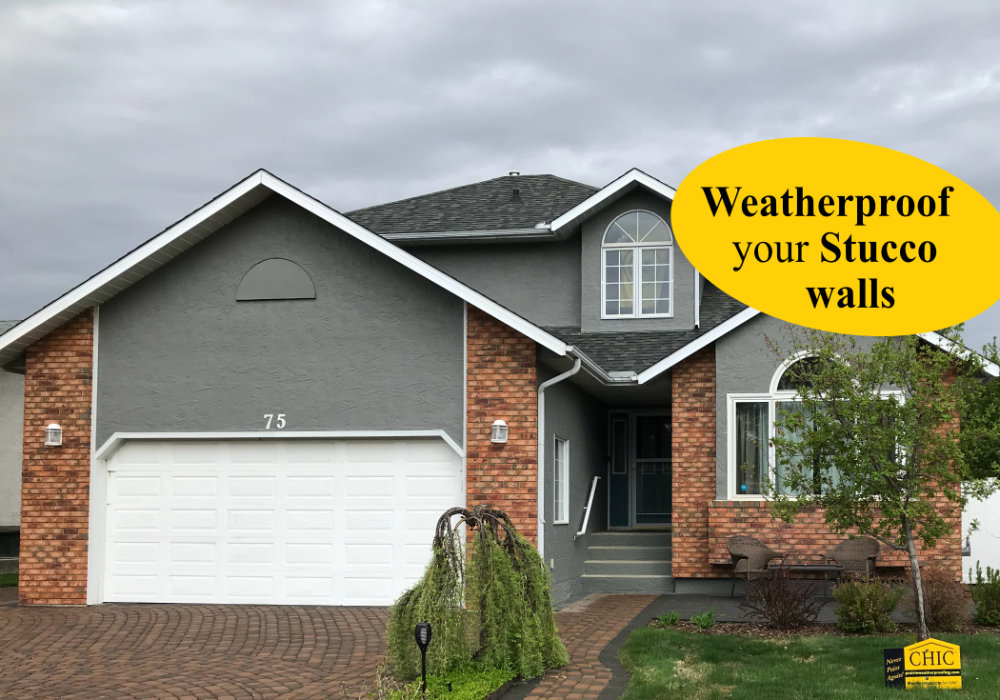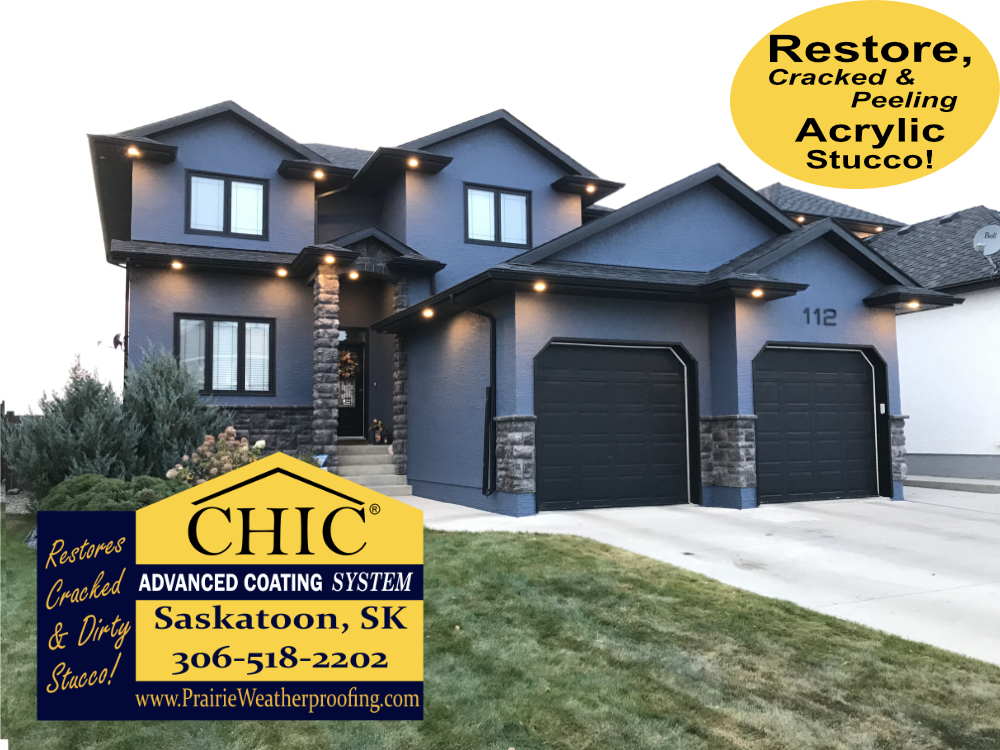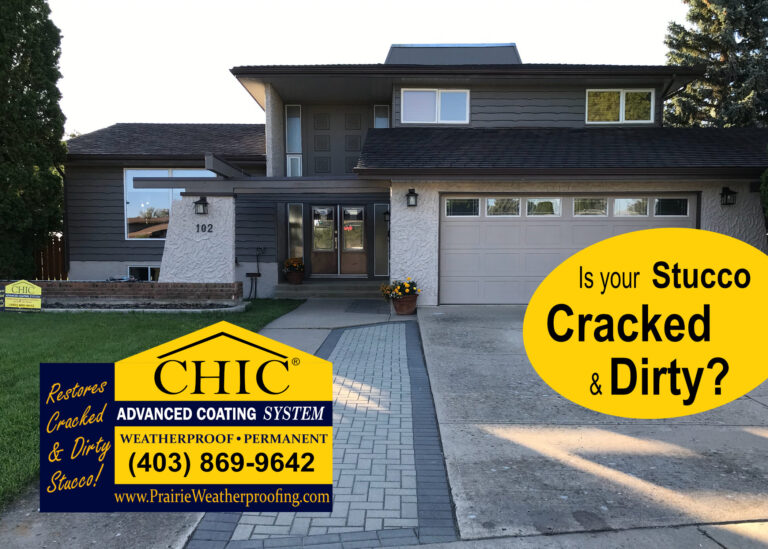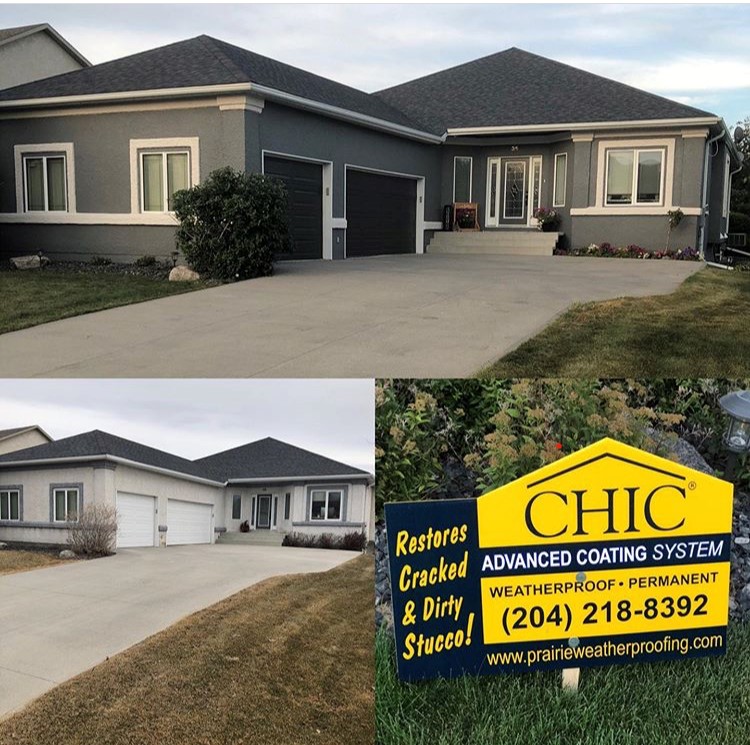 The CHIC installation Process
Our proprietary stucco coating system is guaranteed for LIFE. But for it to work, we employ a specific process. Rather than constantly maintaining your stucco's appearance as you would with any paint. We repair the stucco properly the first time and protect it with our unique process… Here's how it works. "Wow! What a difference CHIC has made on our home.  Not only does it look great, I have the piece of mind knowing it was done right and has a lifetime warranty.  We are super happy."
– James B. Medicine Hat AB
"Our house is completely transformed now and easily the nicest on the block! Worth the money for a quality product."
– Corbin Mussleman, Edmonton, AB
"I want to thank your team for such a terrific job.  Your guys were efficient and respectful. We couldn't have been more pleased with the result."

– Dave & Linda K, Saskatoon, SK
"It hit me then that too often we don't acknowledge when things are good…but we're quick to complain when they're not.  One of my to-do's was to let you know how pleased we are with your work. We are very happy with your product and work in rectifying our sad situation."

– B. Shroeder, Kleefeld, MB